Frenchy's Popcorn was started in the mid 1950's by my father George K.
Gregorian in Providence Rhode Island. The business is still run today by
his son, ME, George M. Gregorian.
Frenchy's Popcorn has operated in the Greater Rhode Island Area for over 50
years, bringing delicicious Popcorn, Candy Apples, Cotton Candy and Sno- Kones to festival and fair goers for half a century.
Today, Frenchy's is can be seen at the WATERFIRES in Providence, as well as
many local events and festivals, including the ARMENIAN FEST in November.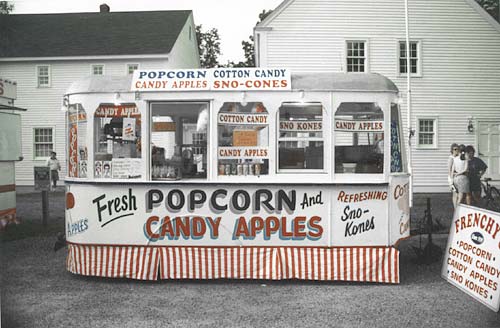 Besides the concession operation, Frenchy's offers our product line to
wholesale accounts. Over the years, many bars and restaurants have served
our popcorn as their favorite snack food. We also provide cotton candy and
candy apples along with the popcorn and our home made caramel corn to
caterers and other event planners. We have even set up our cotton candy
stand at a wedding!
Frenchy's has a unique antique popcorn trailer which has been in our family
since 1956. This charming wagon adds a festive and nostalgic ambiance to any
event.
We also have several portable units and carts to conform to any requirement.
On occasion, we will even rent out our equipment to qualified customers.
For information about Frenchy's Popcorn or for listing of available event dates, please contact:
George M. Gregorian @ (401) 785-3999
Or E-Mail at frenchyspopcorn@aol.com