WELCOME TO FRENCHY'S POPCORN!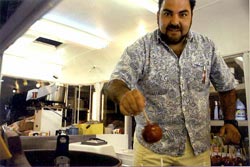 Frenchy's Popcorn has operated in the Greater Rhode Island Area for over 50 years, bringing delicious Popcorn, Candy Apples, Cotton Candy and Sno-Kones to festival and fair goers for half a century.
In Memoriam
George K. Gregorian
Founder of Frenchy's Popcorn and my father
May 20, 1921 - June 25, 2003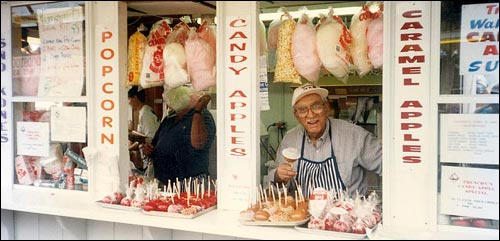 This site is dedicated to the memory of my father, George K. "Frenchy" Gregorian. From a young age when I first started working alongside him, to when he retired and moved to Florida, I learned a lifes worth of lessons. I learned business lessons as well as life lessons and for those I will be forever greatful. His personality and charm are qualities that make me proud to be his son. He was good natured, had a great sense of humor and was always hungry for mor knowledge. His sense of cultural appreciation and European flair gave me an interest in learning about the world.
Frenchy's Popcorn will continue his honor and memory until such time when I can hopefully pass it along to a son of my own.